I seem to be posting my Weekly Wear during the middle of the week… and that's because I'm probably slacking as the week ends. 😀 And by now, you're probably wondering how come I haven't been taking photos outside the house. Well, the thing is, it's too cold outside to be taking photos. For the past few weekends, the temperature seems to be always in the low 30s (F). There was this week in January that we had great weather, about mid 60s. But come weekends the temperature drops and since then, it's always in the low 30s… BRRRRRR!
Going back, I'm featuring my Free People cardigan – another freebie thanks to you who have been joining sample sale sites such as Gilt Groupe. You too can join through this LINK for free and find out how you can get free shopping credits yourself. Anyway, I'll tell you more about Free People below. So continue reading!
FREE PEOPLE
Above, I'm wearing my Free People cardigan which I got last December. It was only my first time to wear it last weekend. For those who don't know the label, Free People is like a more-upscale Forever 21. You can say that Free People's prices are similar or sometimes even more expensive than H&M's. There's one store here in Dallas at NorthPark Center mall near Neiman Marcus and Orange Cup. Free People features trendy clothing fit for ladies. They target the 26 year old ladies but personally, I think their clothing is fit for teens up to young professionals.
Free People was founded in the 1970s. It was such a success that owner Dick Hayne opened another one and renamed the store to Urban Outfitters – oh yes, the other trendy and popular label here in the US. Because of the high demand, he and his wife had to create another line for wholesale. It took many names such as Bulldog, Ecote, Cooperative, and Anthropologie before they named it back to Free People. By the way, the Anthropologie line is still up and running and is one of the high end labels that they have. You can find one at Highland Park in Dallas among other stores throughout the US.
Taylor Swift is one of the celebrities who still wear Free People up to now. And I think even famous blogger from the Philippines, Bryan Boy checks out Free People from time to time. I remember him tweeting about how he loves this particular boots from Free People and he may have probably ordered them by now. But anyway, now that you know about the label, let's get back to business.
BLACK IS BASIC
Above, I'm wearing a very basic color that every woman should have in her closet – black. Be it a tee, polo shirt, tank top, skirt, pants, or dress, you should have those essentials in black. It's something that can tie up with almost anything. It's so easy to wear. You can wear an all black outfit but on the other hand, you can mix it with prints and other colorful wardrobe as well. It's the most versatile color in my opinion. And in today's Weekly Wear 44, I'm mixing black with gray. You don't always have to wear all the colors in your outfit to be eye-catching. Sometimes, an all black outfit (in this case, with hints of gray which is also a shade of black) is all you need to get noticed.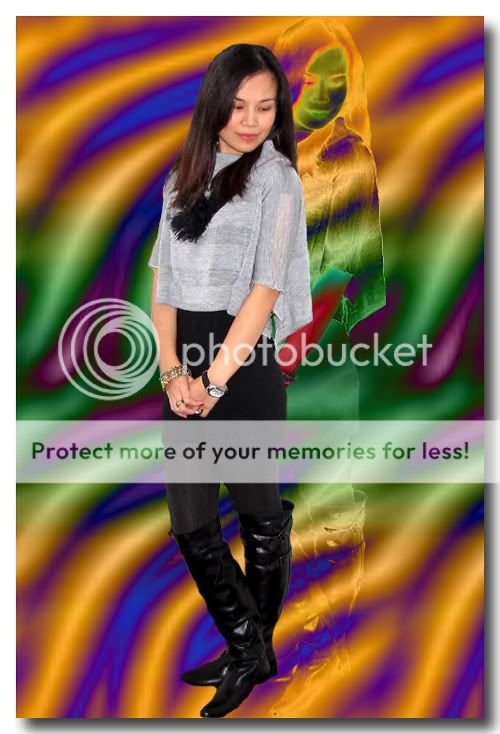 I love this cardigan because it's a great layer for dresses and tank tops. It's got sheer stripes on it so you can still show the color of whatever you are wearing underneath. It's also got a dramatic effect when you lift your arms. It's like you have wings that you can flap anytime, LOL!
What I love about a monochromatic color (well sort of) is that any touch of color will pop out. See how my red nails were so prominent? 🙂
On MFJ: H&M T-shirt dress; Rogan zebra leggings; Free People gray cardigan; Steve Madden over the knee boots;  Adia Kibur bib necklace; Philip Stein watch; Philippe Charriol earrings and ring; Amrita Singh gold bangles.
Comments
comments