Last Tuesday, May 11th, I was lucky to have joined the owners of Leggiadro for the formal opening of their 12th boutique at the posh Highland Park Village here in Dallas, TX.
Leggiadro is a vertically integrated retailer known for its ultra-luxe sportswear. Founded in 1985, the family owned business has a loyal following of discerning women who appreciate the uncompromised fit, comfort and attention to detail. The limited edition collections are sold in twelve Leggiadro boutiques nationwide-with their Dallas location being the latest store.
I'll talk about the brand, their clothes and accessories on my next post. First, let me share with you the event.
It was definitely a great experience having met the owners of Leggiadro. In fact, it was even the President, Brooks Ross who first came up to me and hubby (who was working as my photog for the day, LOL). He was very friendly and introduced us to his mother, Ann Ross, the founder of Leggiadro. She designs her own prints. Their fabrics are then made in Italy while the clothes are produced here in the US. Okay, I won't spoil my review of Leggiadro just yet so let's go back to the Formal Opening. I must say the owners are very down-to-earth. Ann even wanted to fold the clothes on the shelf on her own. It also goes to show how meticulous she can be. For me, that's an important characteristic a designer should possess. I was also told that Brooks was very hands-on with setting up the store. 🙂
I have to admit that before the event, I didn't know much about the brand. I've read their press release and checked their website but still wasn't sure what to expect.
Seeing the window display in their store, I'm already loving the leopard print done in a very sophisticated and classy way.
Below is the guest of honor, Alinda Wikert-one of the most successful women here in Texas. She is the one in the lovely beige Leggiadro jacket which I'll be sharing with you on the next post.
Of course,  a Champagne Toasting won't be complete without Hors d'oeuvres. Lobster salad, mini chicken burgers, beef, lemon cheesecake and strawberry cheesecake were some of the appetizers served…
Here are some photos inside the Leggiadro boutique…
The chandelier in the store even has a story of its own. Ann Ross handpicked and purchased this Murano glass chandelier in France even though they knew it might get damaged during shipment. True enough when it arrived, it was broken into pieces but they had it repaired and it totally looked brand new… best of all, it made it to the Formal Opening. 🙂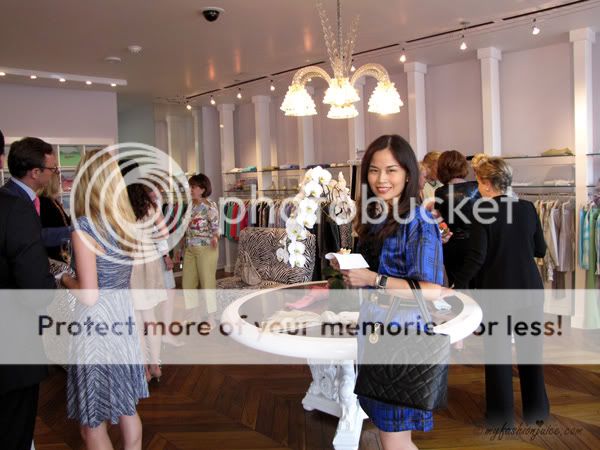 One of the staff of Leggiadro… she was wearing a Leggiadro jacket which in my personal opinion is so "Chanel-ish". It's so chic! 🙂
Cute belts… will talk about it on my Leggiadro review…
With painter/artist Kristine Baerlin of Figment Studio. She's so cool. She told me a lot about Leggiadro and we talked about fabrics and designers among others. Aside from being a professional painter, she has supplied fabrics to different labels/designers like Tory Burch, DVF, etc. She's even willing to hook me up if I ever decide to go to New York and pursue a career in Fashion. How sweet. 🙂
Moving on, here are the rest of the photos we took of the event. I'll be posting the rest of the photos at MFJ's Facebook Page. 🙂
I actually enjoyed the white wine and champagne they served. I'm usually a red wine person but their white wine and champagne were both sweet and crisp. 🙂
The store was crowded with guests because it was a bit warm outside.
And with my delicious lemon cheesecake… lol! 🙂
That's all for now.  Thank you to Kristina Libby for inviting me to Leggiadro's Formal Opening/Champagne Toasting. And of course, a big THANK YOU to the owners of Leggiadro, Ann Ross and Brooks Ross for having us. Last but not the least thanks to Kristine Baerlin for filling me in and keeping us company. 🙂 Please check back for my review of the brand and the collection next.
Have a great weekend y'all and if you're ever at Highland Park Village, please stop by Leggiadro to check out their pieces!
Comments
comments