Toni Francesc Spring/Summer 2011 Collection was the last fashion show I attended last Mercedes-Benz Fashion Week in New York! Thank goodness I'm done! And I truly apologize for delaying everything but it has truly been a hectic last two months and I'm so glad that I'm finally able to finish all the New York Fashion Week posts. Well, I promised a summary so it's not exactly complete. That's gonna be a long post for sure so I'll probably publish that in a day or two. Besides, I have other long overdue Weekly Wear photos to post after this. Let's get to the Toni Francesc Spring/Summer 2011 Collection.
It was the last show on my last day in New York. There was a long wait in between my Yigal Azrouel show and this one so I was actually already thinking of bailing out. Good thing I didn't because I can honestly say that Toni Francesc's SS11 collection was my favorite of all the fashion shows I attended during the Spring/Summer 2011 season! I know Monique Lhuillier's was one of the most breath-taking shows I've seen (hello, the clothes???) and Betsey Johnson's was probably the most entertaining and fun. But what I like about Toni Francesc (sorry if I kept saying Francesco in other videos or previous posts) Spring/Summer 2011 is that I can see myself wearing his pieces. It's something one can wear anytime and anywhere. Not that I will refuse a Monique Lhuillier gown if offered, who will right? But those are stunning pieces for special occasions. Toni Francesc's Collection was very easy and cool. His inspiration for this collection was an Urban Forest and you can definitely see the mix of urban pieces with a touch of natural elements (the forest for that matter) seen in his accessories and neckpieces.
Before everything else, here's a video I took pre-show.
Anyway, the moment I got in the studio at Lincoln Center, I went straight to my seat. I no longer left my seat as I was already tired. All I did prior to the show was take photos of people being swarmed by the paparazzis from afar. Thus, I wasn't even sure who they were.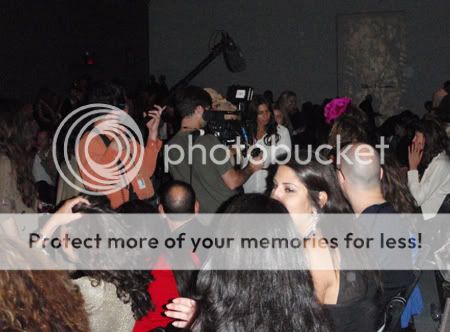 Well at least I know Kelly Cutrone was one of them… She's a force to be reckoned with. For those who don't know, Kelly Cutrone is a fashion publicist and the founder of the public relations, branding and marketing firm People's Revolution. And yes you guessed it right, People's Revolution organized Toni Francesc's Spring/Summer 2011 Fashion Show. I applaud them for such a successful show. It was well-organized and everything was just perfect up to the look book, flyers and swag bags!
Now, here are photos of the Toni Francesc Spring/Summer 2011 Collection!
Don't you just love the wood accents in his pieces? Those dresses were so gorgeous. I absolutely love every single piece. Now here's a video of the Toni Francesc Spring/Summer 2011 Finale.
Photos and Videos taken by yours truly,
Cris Zaragoza
, care of
Chictopia
.
Comments
comments