Last October 21, MFJ was able to join Tiffany in NorthPark Center, Dallas, welcome the design duo John Truex and Richard Lambertson and officially launch their Tiffany Leather Collection here in Texas. I was so happy I attended the event because it's definitely a great honor to meet such wonderful and well-known designers who make beautiful, elegant and classy handbags the world loves. Furthermore, I'm thankful I went to the event because the leather collection from Tiffany did not disappoint. They were able to mix in the true Lambertson Truex designs and the timeless Tiffany touches while adding a modern mix to make it work for every age. The words that come to mind: sleek, luxurious, streamlined, elegant, classy, gorgeous.
Check out my interview with John Truex and Richard Lambertson, the designers behind Tiffany's Leather Collection.
Of course, here's another video showcasing one of my fave totes from the Tiffany Leather Collection. What made it my favorite? While I love the other bags in their collection, just like the Brady Tote, the Harper Shoulder Bag, the cognac East Side tote, and the Manhattan large satchel I especially love the Tiffany Reversible tote because in my opinion, it caters to the younger market. It's the perfect shopping tote that I can toss around without having to worry about the leather of the bag. Check it out here.
Let me share with you photos from the event.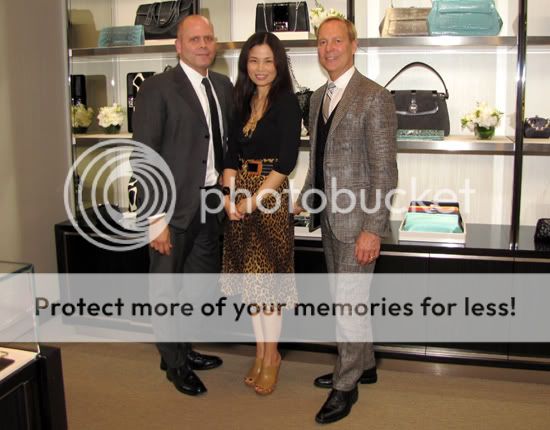 See the clutch I'm carrying?
It's the gorgeous Tiffany Morgan clutch – a framed clutch in gold ring lizard with 24k gold-plated solid brass hardware and Tiffany Blue® leather lining. I wanted to take it home with me! 🙂
The sweets… all were yummy! I especially love the taffy and M&M's! 🙂
With my dear friend Maryann 🙂
Comments
comments