I get a natural high when I do makeovers, DIYs, home transformation, decoration, art, etc. Interior decorating, building stuff, designing, styling, art – they are all my passion. I am overjoyed when I complete projects like these. While this post should be over at my other blog, I Make. I Bargain., I'd like to share a couple of photos here. The instructions will come in later over at the other blog when I'm fully done with our master bath. But that's not gonna happen anytime soon because the transformation isn't done yet. Here are some stuff that still needs attention:
The white marble tiles I wanted for our flooring are out of stock at the nearest Lowe's so I'll have to go to another location to check. There are several within 25 miles anyway.
What's more, the affordable yet modern faucets I want is also out of stock.
I still need to look for and buy glass stones for the mirrors' frames.
And finally, I have yet to buy decor for the master bath.
While there seems to be a lot of stuff to do for our master bath, I'd like to share it with you now because I'm so happy with the changes! 🙂 Here's the sad master bath BEFORE the said transformation.

The cabinets are plain builder's grade… and the previous owners of the house probably always wet the right side bottom part since it's beside the bath tub. But hello, that can be avoided with the help of shower curtains – proper use of shower curtains that is! And if you notice the flooring – vinyl tiles – are full of stains! surrounding the toilet, the edges, everywhere! I have been dying to replace them but for the longest time, have put up with it by making it clean even with the stains, and covering up the big ones with bath rugs!
As you can see the camera photo above, the cabinet has already been painted. But prior to painting, I did it in Photoshop first. Take a look at my concept below, using the first photo above.
I wanted to paint the cabinet doors black and white and put a satin nickel finish stainless steel knob.
But before I show you the actual paint, here  are more photos of the old ugly bathroom. The light fixture was already replaced. However, you can still see the mark from the previous one. That's gone now after the paint. Photos coming up later. Don't mind that the two bulbs aren't lighting. Hubby loosens them up to save energy.
More stains, oh and pardon the dirty mirror. They were taken on purpose – to make them look sadder than it already is… haha 🙂 So when you see the transformation, it will definitely be a far cry from the old one. LOL!
For almost 2 years, ever since moving in our place, our master bath color theme was chocolate brown and blue. See brown towels and brown and blue shower curtain! While I love it, I cannot deny my love for black and white! Now, are you ready to see our new yet undone master bath? Are you sure? I'm warning you, there are a ton of photos. Hehe.
Just reminding you, the floors aren't done, the decor's not yet complete, and the mirror frames aren't done yet too. Oh, and I haven't bought several white scented candles in varying heights (to keep a romantic mood going, hehehe). The things I've done here are:
Paint walls in gray.
Paint cabinet in black and white.
Added a satin nickel finish knob to the cabinet
Bought a new shower curtain in white, black and gray with bamboo leaves design.
Bought new towels in gray.
Bought new bath rugs in dark gray/charcoal.
Decorated the sink with a clear bowl of soap. 🙂
Since I didn't have fresh flowers at the time of shooting these photos, I made a work-around. I filled a glass bowl with white soaps and made it into a sort of art/center piece in between the double sinks. 🙂 That's one tip when decorating. Take an item that you know you have a ton of and turn them into decor. It would have been nice to remove the packaging (I'm not endorsing the soap brand here, hehe, but that's doable, just email me! LOL!). But I was afraid the scent might fade or something if it's opened for a long time. That's a ton of soap! Now, as mentioned in the photo, I'm replacing these two old faucets with modern ones. Next time I show you photos of our master bath, it would be with new faucets and fresh flowers too!!! 🙂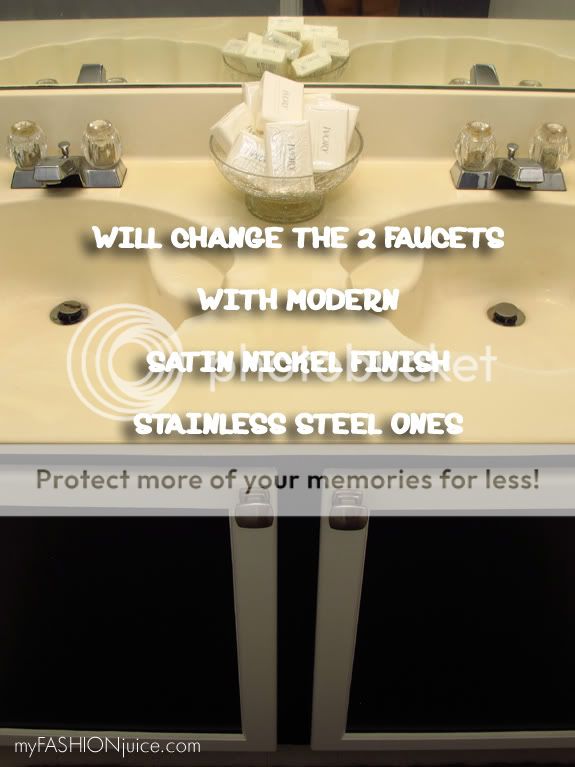 Well, that's all. I told you I had a ton of photos to share with you! I hope you enjoyed our master bath transformation as much as I did enjoy doing it. I did most of the painting here. I started off with the wall painting weeks and weeks ago and Hubby finished it for me. As for the cabinet paint, I did most of it. Whew! I only had Hubby do the bottom parts because I still have a hard time crouching and bending sometimes. And of course, all the shopping and decorating is done by yours truly. LOL!
What do you think? I hope you like it! I hope this inspires you to transform your bathroom too. It doesn't take much skills to do it. Sometimes, a fresh coat of paint in the walls or cabinets is all it takes. And if painting is not your cup of tea, there's always just shopping for new bathroom accessories and wall art!
Comments
comments