About a year ago, I interviewed the Tiffany Leather designers Richard Lambertson and John Truex (as seen in this post). Last week, I got to interview them a second time for their Fall/Winter 2011 collection and more! It's always a pleasure to visit the Tiffany & Co. store and always an honor to meet and chat with these amazing designers! Aren't they  just fabulous?


(Richard Lambertson, MFJ, John Truex)
Q & A with Tiffany Leather Designers Richard Lambertson and John Truex
How did you get started in the Fashion industry?
Richard: I personally started working in retail. I worked for Saks Fifth Avenue and Bergdorf Goodman in the early 80s. And then I went to work with the designer Geoffrey Beene for several years and started working with him in designing accessories for his collection. And then I went on to Gucci from there. So I've been working in this business for quite awhile.
John: Well I've always had a passion for accessories. Absolutely. I studied marketing at the University of Cincinnati but I took advantage of my free elective courses by taking Fine Arts, Ceramics. So I loved ceramic design. Did it for 3 years – just building and creating. So I guess if you really look back, that was kinda the beginning of my accessory career. Also a friend of mine who actually lives here in Dallas, gave me a piece of leather as a birthday gift and I made it into a book satchel. I just did it and carried my books around in this wonderful black leather satchel. And still, having made that and ceramics, I wanted to go into advertising. So I moved to New York. I don't know. Something just hit me and I answered a help wanted ad from an accessory firm and it all started there.
MFJ: Since you mentioned ceramics, do you think there's a possibility of expanding your collection to home?
John: No. I mean Tiffany has a beautiful assortment of home, crystal and China. We're not part of that division. We're strictly and solely part of the leather and gift division. Anything in leather, we're involved with.. maybe a key chain, or a tote, or a men's bag or wallet.
How did the marriage between Tiffany and Lambertson & Truex come to be?
Richard: John & I, as you know, had our own collection for 10 years, called Lambertson & Truex. Tiffany bought our company in 2009. So they purchased the company. We've been talking to them about doing a collection for them and they ended up purchasing the company. So we've been working with them for the last 2 years.
What or who is the inspiration behind your current collection?
Richard: We always have an image of the Tiffany client, our client. It's very broad because Tiffany has stores in urban populated areas like Dallas, New York and Beverly Hills but they also have stores in other parts of the country and all over the world. Nowadays, the customer is global. They're from China. They're from Japan. We have 4 locations in Tokyo alone. Our client is a very modern (woman)… It bridges the gap from being the mother to being the daughter or maybe even the grandmother. Pretty much the Tiffany customer. There's something for everybody.
John: We're in the 21st century right now and a modern woman is just that. A modern woman – she's independent. She's got her own unique style. And so that is the heartbeat that inspires us when designing any collection. Who is she? What is she wearing? What is she thinking? Where is she going? And that is our inspiration.
MFJ: Can you describe that woman?
John: Yeah she's definitely a woman that's constantly on the go. She is up in the morning. Preps, you know. She's a student. She goes to class. She has a job. She goes out with her girlfriends. She's a mother. She's got children, puts them to school. She goes to her job. She works all day. She comes home, gets her kids. She has a weekend. She's a woman that loves adventure. She might work Monday through Friday here in Dallas but on the weekends she'll take a little flight to Vegas with her girlfriends and have a great fun weekend. So she's definitely a woman who likes to move around. And so I think our bags have to be accessible. They have to be fashionable. They have to be light. They too have to move with that same sort of energy across the country.
What can we expect from you or your future collections? What are your future plans?
Richard: Well we're always adding new styles and new designs. The collection is getting to be more fashion-driven than we started out to be because that's sort of what people have been wanting. We've added things like jewelry boxes over there (pointing to the jewelry box on the shelf). We're constantly adding new-ness to the collection. I wouldn't say new categories necessarily, they're all based in leather goods.
MFJ: Do you have belts in the collection?
Richard: No. We do gloves and scarves.
MFJ: Oh you have scarves? I didn't see any.
Richard: Yes we do silk scarves but they're mostly sold online or in the New York store.
John: Well we're most certainly doing two collections a year. So there will be plenty of future collections ahead of us. We're moving into Spring 2012 Season which will be launching February 1st in most of the Tiffany stores. And you'll be seeing lots of bright colors, a lot of softer hands, softer leather yet with a little bit of slight structure to them. A play of resin, metal and leather so a lot of different surfaces all combined as one object. So you'll see some fun new exciting designs.

Did you see those juicy clutches? Those are some of the pieces you can expect from Tiffany Leather's Spring 2012 Collection! Oh how I wish I can take home one of those babies! I am loving that bright red clutch!
If you were not in the Fashion industry, where would you be?
Richard: Where would I be? Really?
MFJ: Yeah, like is there anything else you like or is it just fashion?
Richard: I love forensic anthropology.
MFJ: Really? Who would have thought? Wow!
Richard: I actually wanted to be an archeologist when I was a student and I didn't really see a career in that. But I am always fascinated by all those medical shows and things like that and I think I would really love that knowledge.
MFJ: So do you watch shows like NCIS or CSI… ?
Richard: Bones. Bones is my favorite. Love Bones. I love all that stuff.
John: Where would I be? What would I be doing?
MFJ: Yes, what would you be doing? Like what's next to your love of fashion?
John: Well, that's a hard question just to answer because, I love fashion but there are so many other things I love.
Richard: You're an equestrian.
John: Yeah. I mean, yeah it would be great to have a farm with animals and horses. I mean I love that. If I were not in fashion, I think the idea of veterinary medicine to me… and animals I love.
Richard: I said forensic anthropology.
John: Yeah, yes. I knew exactly you'd be saying forensic anthropologist.
Richard: See, I wasn't lying.
MFJ: Wow, you really know each other too well.
John: I love the idea of magazines. I think I would be in the world of publishing. I love magazines, the layouts, advertising, prints… anything paper. I love that idea.
MFJ: But that could relate to… fashion
John: …that could relate to Fashion, I know. I know. How about sitting on a beach watching the sunrise or a sunset?
MFJ: That is perfect!
What's your favorite in the collection or what do you think is the must-have bag in the collection?
Richard: I think personally, my personal favorite is the new Genevieve bag.
MFJ: That is pretty especially with the leopard print.
Richard: And it also comes in a beige leopard and this one (points to the ostrich and black). I love this bag because you can put your cellphone and things in this side and then close this up and put your valuables on this side. So you can walk around with it pretty much open…
MFJ: And you can close it back together?
Richard: Yeah, and you can close the whole thing up (and he shows me the rest of his favorite bags).
John: I think the fashion must-have for this season is the Sawyer hobo. It is, I think a perfect bag here (shows me the bag). It's in this leopard print. I think it's bold, strong. It's a great unique silhouette. It's soft. It's easy. It just sorta fits and goes everywhere yet has a really great attitude to it. I think this is definitely a fashion must-have for this season.
MFJ: I love the leopard prints in your collection.
John: Yes, I love this. And you know as you can see it, this with a little croco clutch inside (showing me how the two goes well together)… I mean to me the idea is lifestyle. And that's what wonderful about it. It's what you discover inside your bag. It's not just your bag but it's like what else is inside of it – a clutch for the evening, a great wallet if you just run out and buy a Starbucks coffee, you know, you just need your wallet. It's what can be discovered inside that's important as well.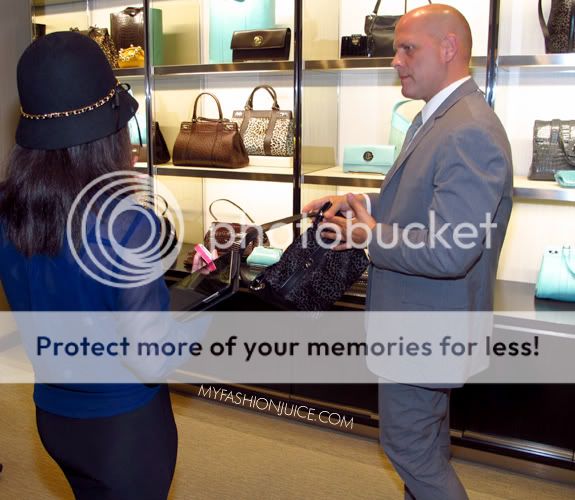 Well, it's always an honor to interview Tiffany Leather designers Richard Lambertson and John Truex. Our interview this second time around has been more intimate but more relaxed and fun. I hope to see Richard and John again for the Spring 2012 collection and of course excited to see the entire collection! When it comes to bags, I'm not one to say no especially when we're talking about gorgeous and lust-worthy bags from Tiffany!
Thanks to Tiffany Dallas and to Maggi for inviting me and thank you for the gift! 🙂
To find out more about the Tiffany Leather Fall 2011 Collection, read my previous post here. Below is a slideshow of Tiffany leather goods that the Hubby took as I interviewed the designers. Enjoy!
[portfolio_slideshow]
*My fellow blogger friends FFHF and MMIH were supposed to tag along but didn't make it but I was able to ask a few of their questions.
Comments
comments