You've seen the Melie Bianco Edith bag here and the Megan Pinto bracelet here. Now here's the full outfit! I feel like this outfit is ready to go to New York Fashion Week. Oh will I? But I have yet to decide! We are expecting guests prior to NYFW and another batch of guests after NYFW. Decide Decide Decide! It'll be easier if I have sponsors to fly me to NY!!! Going on a road trip takes a lot of time and while fun, can be tiring. Any takers? 🙂

This Spring 2012, we are going to see a lot of printed blazers, florals, bold prints, sporty looks and baroque details. So this is me adding hints of those trends to my current outfit. The baroque-inspired blazer and sporty Alexander Wang dress, thanks to the zipper right smack at the center, keep this outfit trendy but still Fall/Winter appropriate mostly because of the gray, gold, black and bordeaux color scheme.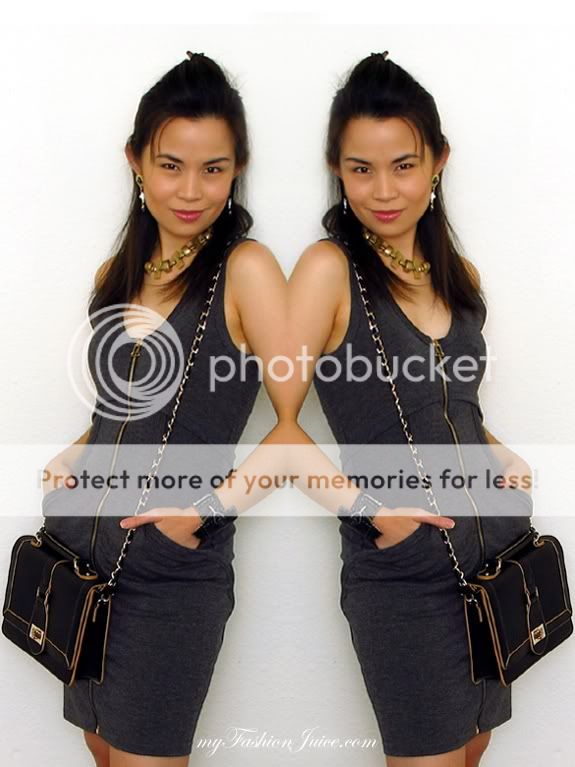 On MFJ: Alexander Wang gray zipper dress; vintage blazer; Jeffrey Campbell Lita booties; Melie Bianco Edith bag courtesy of Silvia's Shop; Megan Pinto leather cuff courtesy of Megan Pinto; Astoria necklace and World's End Earrings via JewelMint.
And by the way, if you love my earrings and necklace, I got it from JewelMint. I have teamed with them to offer you 50% off on your first month + free shipping. Simply enter discount code dal201 at checkout! Enjoy!
Comments
comments