Happy Thursday my lovely friends! It's time for another "What's In The Bag" post and today, I am featuring the bag of the gorgeous Marjorie from the blog Modern Mom In Heels.
What's In The Bag?
Bag: Kate Spade Black Mansfield LIV Satchel
IPhone 4S
1940's pill box
Purple make-up bag
Dolce & Gabbana Aviator Glasses
Money Pod
Audi Car Keys
Sephora Smoky Eyes Palette
Miss Dior Cherie Perfume
Mac Studio Fix Powder Plus Foundation – NW35
Make-Up Brushes (Blush, eyebrow, and shadow)
Black Kohl eyeliner pencils (2)
Trident White
Boots Botanic Crème Eyeliner (This is the best!)
Eyebrow Powder (Medium Brown is my preference)
Bumble and Bumble Thickening Hairspray
NYC Liquid Concealer
Nars Lip gloss (Angelika and Turkish Delight)
Goody Hair Ties (I never leave home without these)
Mac Lipstick (Rebel and Pink Nouveau)
Benefit Tarte Cheek Stain
Almay Liquid Eyeliner
Sephora Lip gloss
Sephora Blush Me (Apricot)
Kokeshi Cherry Lip Balm
Lip Liners (Beet and Nude)
Bath and Body Midnight Pomegranate Hand Cream
Burt's Bees Hand Salve
Avon Eyelash Curler
Elf Tweezers
2 pens
Wet Ones wipes
Tootsie pop
Trident White
And a closer look at her gorgeous Kate Spade Black Mansfield LIV Satchel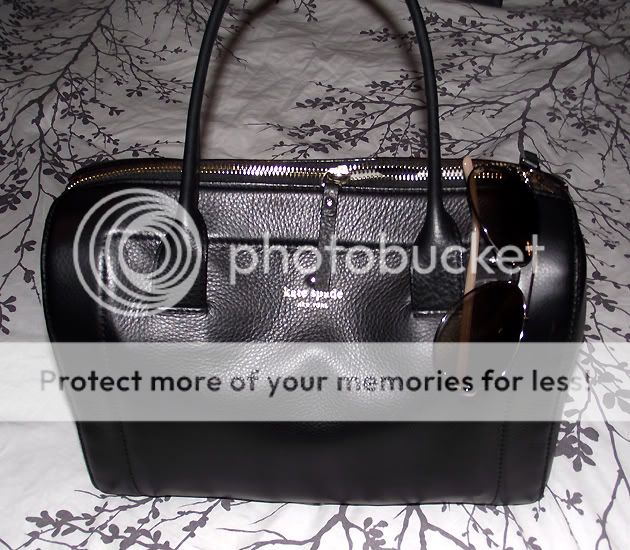 Thanks to Modern Mom In Heels for sharing her eye-candy bag and its contents! Girl, I love your perfume! And thanks for this because I was reminded of some stuff that I need to buy and/or put inside my bag. My Benefit cheek stain has long been depleted and I have to go grab another one. I also forgot to include my 2 tweezers, pens and hand creams in my bag post but I usually carry them around with me. And, I also got curious about the Boots Botanic Crème Eyeliner since you said it's the best. Lately, I've been finding myself obsessed with eyeliners. So yeah, I have to put that down in my list of stuff to try. 🙂
Well, that's it for today my lovely readers! Hope you enjoyed a peek at Modern Mom In Heels' bag! Now we know some of the beauty secrets hidden in her bag! 🙂 To find out more about Marjorie, please visit her blog, Modern Mom In Heels! And to the rest who wants to be featured here in My Fashion Juice, kindly leave me a message or just email me a photo of your bag and its contents with a list of the items in there. If you're a blogger or have a website, send me a link to it as well! 🙂 Happy Thursday everyone!
Comments
comments