I already feel like a broken record – but Fall is my favorite season – REALLY! Aside from the beautiful Fall foliage, I live for the chilly weather, cool breeze, pumpkin spice everything, and dressing in layers. FALL FASHION is my absolute favorite. I can layer my gorgeous jackets, cardigans, and light sweaters without the puffiness from winter layering. That's why today, I'm sharing with you my go to for Fall layering – Cuddl Duds.

Fall Layering in Cuddl Duds
You already know it. I live in Cuddl Duds layers come chilly weather. I've talked about it before and I'm here to share more about them and my latest pieces from the brand – all available at Bon-Ton.
The Softest Leggings and Cardigan – SoftKnit
I've had other fleece-wear from Cuddl Duds before. But this time, I picked out the SoftKnit leggings and cardigan, and I don't know why I waited so long. Can I just tell you how amazing this one feels to the skin? It feels SUPER soft and luxe – like I can't even explain it. YOU JUST HAVE TO TRUST ME on this. Or not – decide for yourself. You're gonna regret if you don't try sooner!
In fact, I love it so much, I wore it two days in a row and I'm not even embarrassed to admit it. But really, if you try this out, you will have to agree with me. I wore it out to run errands one day. And the next, I wore it to walk Louis out.
Striped Longsleeves
Now, don't think that their loungewear is just meant for that – to lounge. I use my black tops from Cuddl Duds to go out, like all the time. The cowl neck tunic has become a go to when I'm wearing skinny jeans or leggings out to run errands. Then the shorter or regular length tops, I use to layer underneath jackets or even sweaters when it gets colder. Then there are these cute printed ones like my striped top shown here. Do you know that it's actually the crew neck pajama top? Sure, I was going to wear it to bed. But can you see how chic it actually is? I was able to dress it up with some cropped pants, faux leather jacket, and hat that I thought made for a super chic, Parisian-inspired look. What do you think?
I am super in love with this outfit but I'm curious to hear what you guys think. Yay to the pajama top being worn in this look… or Nay?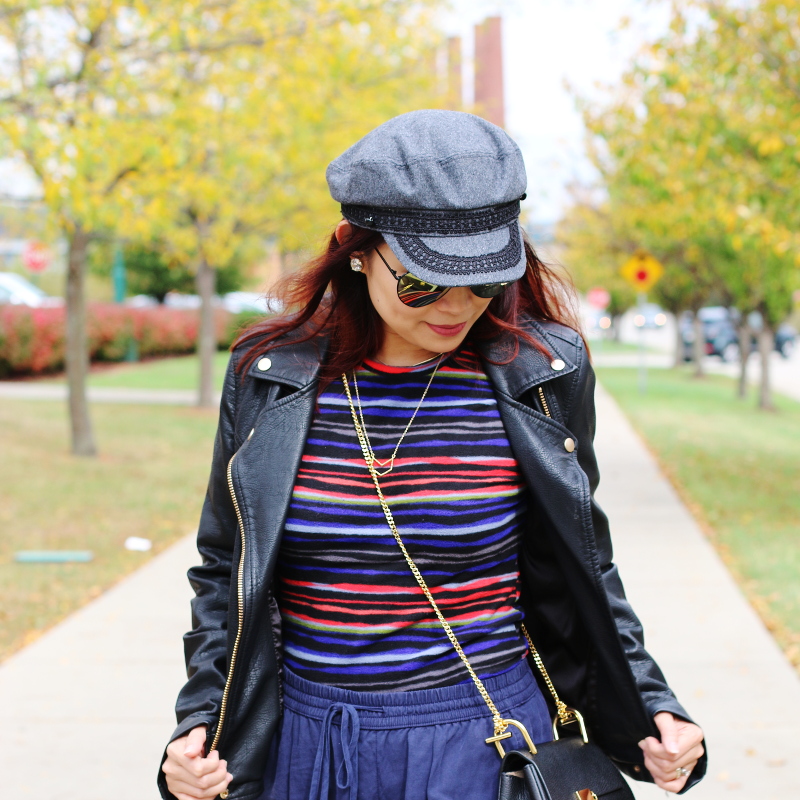 Wanna live in layers like I do? Check out the comfiest layers from Cuddl Duds over at Bon-Ton here. If you end up picking something and making a purchase, do share what you got! I'm always curious what you guys pick out and shop for. Or if you're still deciding on the items, tell me which ones do you love from here and I'll give you ideas or suggestions on how to style it or if it can be worn with dressier pieces too. Think of me as your personal style advisor! Hah! Until next post, guys! Xo.
Comments
comments